The Coach House Buying Experience
---
Buy At The Coach House Factory & Save!
Coach House® motor homes are sold nationally from our factory in Venice, Florida or at select RV Shows throughout the country. The Coach House Buying Experience includes numerous buyer incentives including a "Buy-n-Fly" travel re-reimbursement program.  We provide personal factory tours, excellent trade-in values, on-the-spot financing and detailed instruction how to operate and care for your RV.  No middlemen, no pressure, no gimmicks — it's a great way to buy a motor home.  We also provide a 3 years or 36,000 mile warranty on our conversion throughout North America. Call to find out more.
See For Yourself
We invite you to see firsthand what makes a Coach House motorhome so special. Visit our factory at I-75 exit 195 near Venice, Florida, where a knowledgeable salesperson can take you on a personal plant tour and show you the latest models. Open 9 a.m. to 5 p.m. Monday–Friday or by appointment.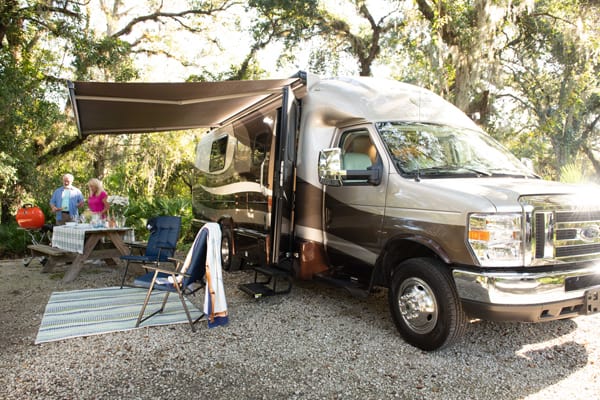 Your Passport To Savings
Family Owned & Operated for 30 Years
---
Coach House is pleased to offer its Passport to Savings program, designed to assist customers in purchasing a new Platinum, Platinum II, Platinum III, Platinum IV or Arriva. We will even reimburse some of the costs of your visit if you purchase a new motorhome!
With the Passport to Savings program, Coach House assists you with all aspects of your purchase. We provide up-to-date product information, determine the trade-in value of your current motorhome, and give you a great price. We also offer competitive financing terms and will deliver your new Motor Home through our exclusive "Red Carpet" delivery experience!
We invite you to visit our factory in beautiful Southwest Florida to see firsthand how we "build it right, build it to last." See why our exceptional motorhomes consistently earn top ratings.
On your personal tour, you will see how our current lineup is engineered to the highest industry standards in design, safety, functionality, comfort, and performance. Now is the time to reward yourself and take your RV lifestyle to the next level.

Buy-n-Fly
Buyer Travel Reimbursement
---
Purchase a new Motor Home at our Nokomis location and Coach House will reimburse your travel expenses (up to $850) from your home to our factory. That amount can cover airfare, or it can be applied to accommodations while you are here, or to the cost of your stay at a Florida RV park.
Here's how it works:
Call Coach House at (941) 867-3060 to schedule your personal tour of our manufacturing facility in Sarasota County, Florida. We are open from 8:30 a.m. to 5 p.m. Monday through Friday. Weekends by appointment only.
Fly or drive to the Coach House factory. There are several nearby airports: Tampa International (TPA), Sarasota-Bradenton International (SRQ), Southwest Florida International (RSW) and Punta Gorda Airport (PGD). If you drive your RV, feel free to stay at Coach House or at one of several conveniently located campgrounds.
Tour the Coach House factory with our knowledgeable factory representative. Ask questions. Take your time. Discover the many details that make the Platinum, Platinum II and Arriva so remarkable. They are truly in a class all their own!
When you purchase your Coach House RV, we will:
Reimburse your travel expenses (up to $850 total) from your home to the Coach House factory, including airfare and hotel or campground accommodations.
Provide our Red Carpet delivery service, including personal hands-on instruction in all your vehicle's systems and features.
Explain how you can easily obtain Coach House warranty service throughout North America or at the Coach House factory.
Coach House Inventory For sale
See What's Available In Stock or Order Your Own
---
Click the appropriate button below to see our inventory of available new and used Coach House motorhomes. Don't see what you want? You may order one built for you personally, selecting from our choices of floorplan layouts, exterior paint, decor, and options. Call toll-free (941) 867-3056 to find out more.